SIMPRA
Sharmila Complex
# 203, Medical College Road,
Near Mangalapuram Bus stop
Thanjavur – 613 007,
Tamil Nadu, India.
Mobile : + 91 9345389849 / 9043175776
Phone : + 91 4362 245612
Fax: + 91 4362 248157
Email:
For admin enquiries:
admin@simpra.co.in
For admission enquiries:
admission@simpra.co.in
For general enquiries:
enquiry@simpra.co.in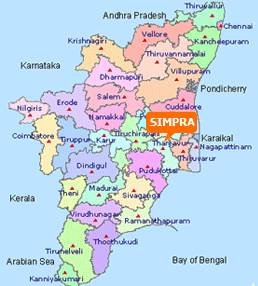 About Thanjavur
Thanjavur or Tanjore is the city of Chola rulers and bears their stamp in an array of temples finely sculpted and carved. It is the home of Carnatic Music, Musical Instruments, dance and traditional handicrafts. The Brihadesvara Big Temple built by Raja Raja Cholan is said to have been the tallest monument in ancient India, rising height of 92 meters in pyramidal form. Near the inner shrine of Brihadesvara is a gigantic, five meters long black granite sculpture of Nandi, the bull of Lord Shiva.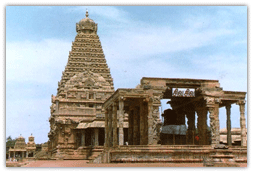 Brahadhiswara Big Temple
SIMPRA located in the heart of the city of Thanjavur. Thanjavur is one of the Educational hubs of Tamilnadu. Thanjavur District is located close to the Tiruchirapalli. Thanjavur is a fascinating city with a unique mix of rich tradition of education and culture known as " Rice Bowl of Tamil Nadu and Cambridge of the East. Thanks to the presence of several Universities, academic and research establishment this city is now fast becoming an advanced educational city.