Department of Bioinformatics
Bioinformatics is the field of science in which biology, computer science and information technology merges in to a single discipline. The recent flood of data from genome sequences and functional genomics have given rise to this new field. The students have full access at all time to computer lab which is well equipped with the latest softwares and hardwares to cope up with IT industry. It also provides the students with an unlimited internet access of 2 Mbps. Stress are laid on biological data banks, programming in PERL, Molecular Modeling, Genomics and proteomics. Seminars, Guest lecturers and other interactions serve as showcase areas of current development and practical application in Bioinformatics.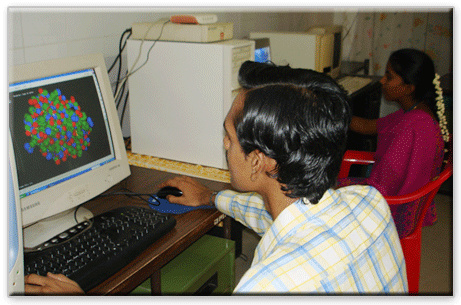 Computer laboratories

The computer lab houses more than 35 computers capable of handling advanced bioinformatics software and molecular graphics, for in- silico biology. These include Silicon Graphics workstations with all necessary software packages such as GCG and Insight/Discover, etc. and Intel Core 2 Duo computers: each student is assigned an individual PC for the entire academic year. It has broadband connectivity.